~ The Center for Mind & Bodywork ~ Bodywork, Yoga, & Guided Meditation
280 E. Main St. #109, Newark DE 19711
At The Center for Mind & Bodywork, we strive to help people develop awareness to live healthier lives
What we offer:
Structural Integration & Massage with Parson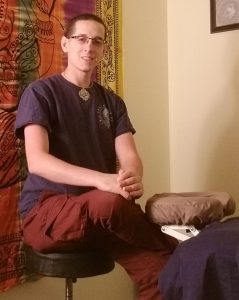 "Parson's passion in life is to bring bodywork and massage to his clients. Because of this, many have experienced powerful healing.    From deep relaxation to advanced pain relief, Parson is sensitive to each individual's needs.  Parson is a Licensed Massage Therapist who has also trained in other bodywork modalities to better serve his clients.    He has studied Structural Integration, which reshapes soft tissue to bring balance to the body.  This technique is very helpful for pain and overall body performance.    He has also trained in Healing Touch, an energy therapy which is wonderful for boosting the immune system, increasing overall energy, well being, and revitalizing the spirit. " – The Center for Mind & Bodywork
Please call or text Parson directly to schedule: (302) 290-5130
COVID: Currently accepting clients. All clients required to wear a mask.
Services & Cost
Deep Tissue Massage: $80/ 60 minutes; $110/ 90 minutes
Therapeutic Massage: $80/ 60 minutes; $110/ 90 minutes
Healing Touch:  $80/ 60 minutes; $110/ 190 minutes
20% Discount available for HRHS clients off all services, just mention us when you book your appointment!
Meditation w/ Parson
Join Parson for a 30-minute guided meditation class on the third Wednesday of each month, free of charge. Relax, unwind, and reconnect with yourself. To sign up for meditation at the center, visit  mindnbodycenter.com or call 302-426-5050
Yoga w/ Maureen
Long-time yoga instructor Maureen Reardon is now offering her yoga classes via the Center for Mind & Body, and brings over 10 years of experience in body work to students through their guided yoga practice. For more information on Maureen or to sign up for one of her classes at the center, visit mindnbodycenter.com or call 302-426-5050